Strategy
24 December 2020 -
Reading time: 12 minutes
Dropshipping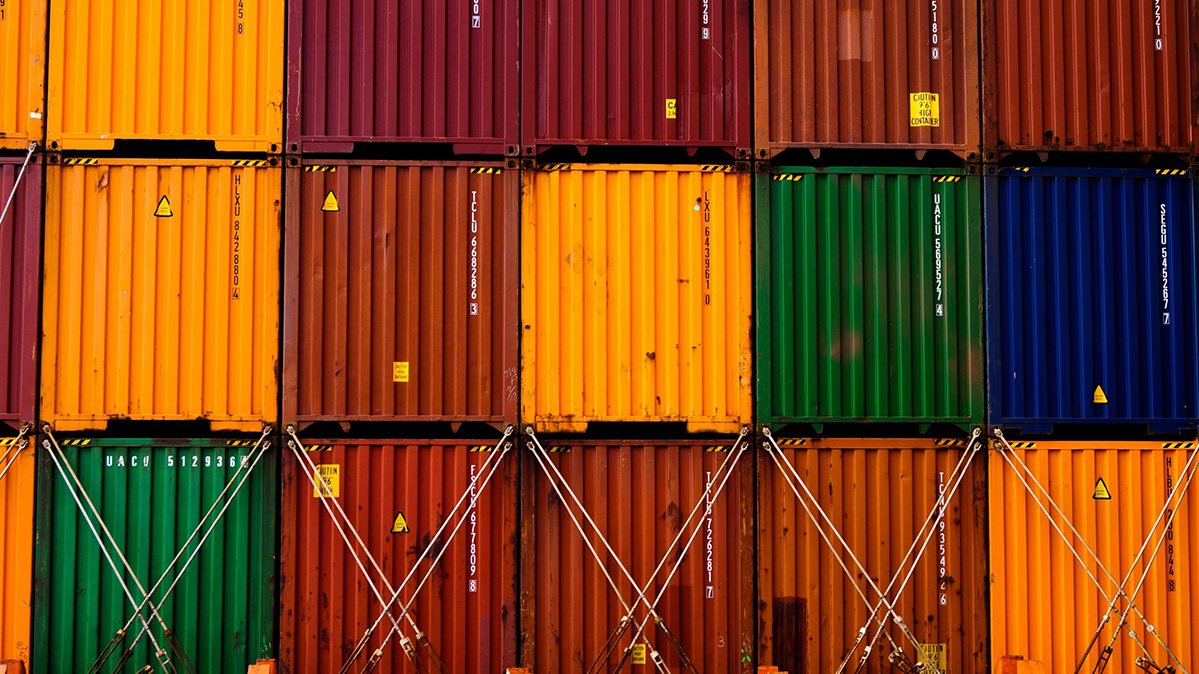 Have you ever heard of dropshipping but don't know what it really is? Wondering how to do dropshipping? How to create a dropshipping website? What are the pitfalls? Who pays VAT in dropshipping? If all these questions are of interest to you, this article should be of interest to you.
What is dropshipping?
Dropshipping is a method of retail sales where an e-commerce site does not keep in stock the products it sells. Instead, when a store sells a product using the dropshipping model, it purchases the item from a third party and ships it directly to the customer. Thus, the seller does not have to handle the product directly.
The biggest difference between dropshipping and the standard retail model is that the seller does not own stock or inventory. Instead, the seller buys the necessary inventory from a third party – usually a wholesaler or manufacturer – to fill orders.
How does dropshipping work?
The process and business model of dropshipping is quite simple. This business model is a partnership between a retailer who sells products online and transmits customer orders to a supplier who manufactures and/or warehouses the products.
The third party supplier then packages and ships orders directly to customers on behalf of the retailer. Almost any product can be delivered by dropshipping, but to be successful with this business model, the right products must be chosen and marketed to the right audience. The most popular products sold by dropshipping are:
Technical supplies
Jewelry
Products for pets
Plush toys
Smartphone shells
Beauty and health
Everyday products
Power Tools
Drones and accessories
The stages of dropshipping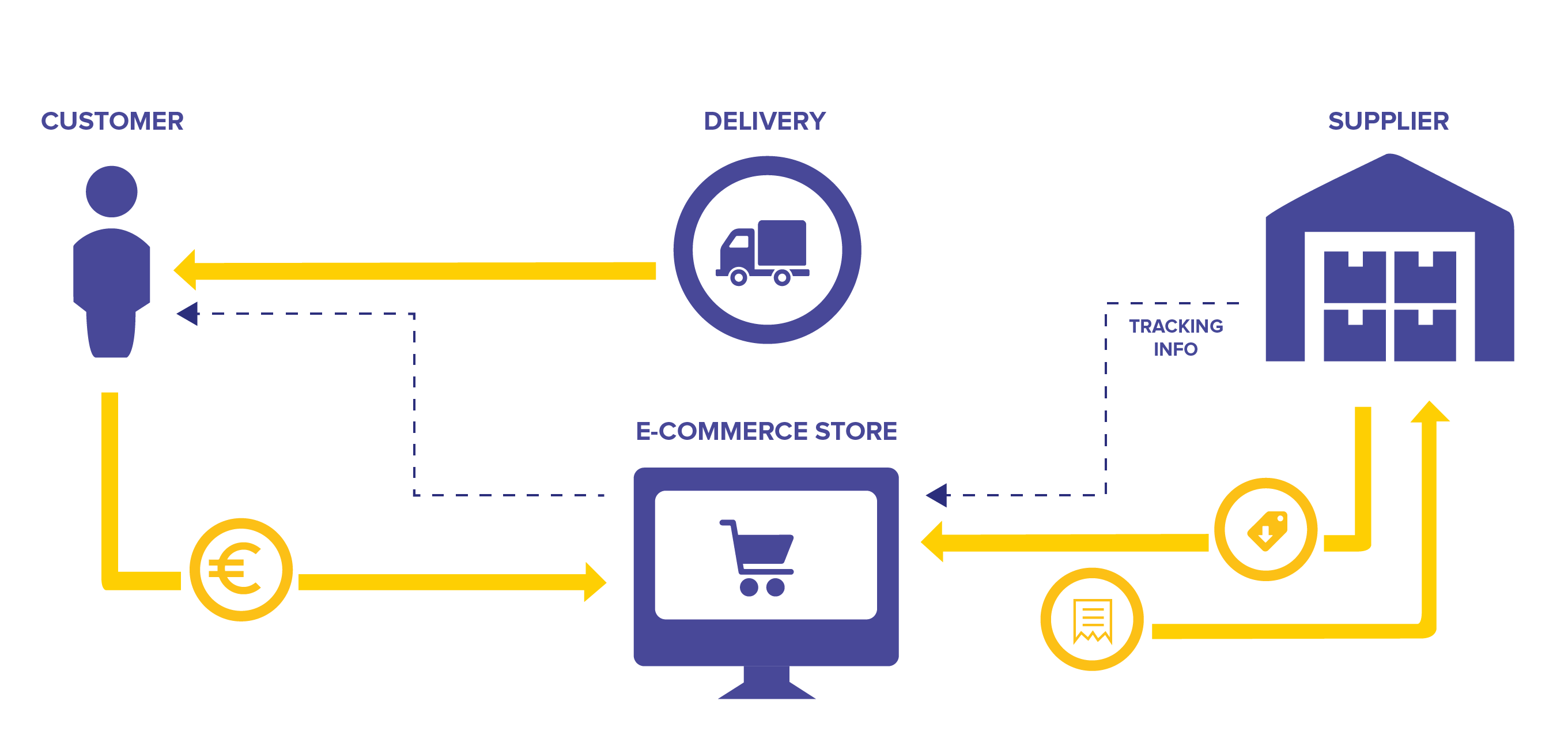 The supplier offers its products
The drop shipper promotes the supplier's products on its website or via marketplaces (with a higher price).
The final customer buys the product at the dropshipper (on his website or on marketplace like Amazon).
And it is delivered directly by the supplier
The dropshipper then pockets its margin without having stock or shipping to manage.
What are the advantages of dropshipping?
Lower start-up costs

To start an online business, you usually need a good capital to buy your stock of products. Direct delivery avoids this problem by eliminating the risk of spending your money on unsold inventory.

Propose articles almost instantly

Usually, when a retailer wants to start selling a product, he has to wait until all his stock has been shipped before he can start advertising it on his website. With dropshipping, when you decide to put a product for sale on your site, you can start advertising almost immediately.

Offer a wider range of products

Having the possibility to offer a wider range of products is always something a company can aspire to and with dropshipping it is possible. Dropshipping allows you to list items on your site and your supplier can take care of the rest.

Test new products without risk

When you add new products to your range, the risk of not selling is always in the background. If you want to start your online store and test new products, you can check out dropshipping marketplaces such as AliExpress or Dropship Direct.

Optimize your time

Organizing your stock and preparing it for delivery takes a lot of time. Using a third party to ship items avoids handling, labeling, packing, shipping, etc. This leaves you time to focus on developing your business in different areas.
What to be wary of with dropshipping?
Dropshipping does not only have advantages. Both wholesalers and merchant sites must be wary of certain elements. We have written this article to highlight these drawbacks and help you avoid falling into the traps of dropshipping.
For wholesalers:
The two biggest disadvantages for wholesalers are certainly the lack of control over information about the products sold and the conditions imposed by the merchant sites. Indeed, merchant sites may impose conditions on wholesalers: commission rates, production of content for product sheets, specific rules for logistics, etc.
Firstly, the primary risk for these wholesalers is competition. Merchant sites do not hesitate to use other wholesalers with better commission rates for example. The competition is tough and merchant sites have understood this. However, faced with e-commerce sites, dropshipping wholesalers can more easily impose their own conditions. In these cases, they have lower sales volumes and logistical problems are multiplied by the number of distributors.
Also, wholesalers have absolutely no control over the flow of information on the merchant site. They are then confronted with the basic problems of communication. The merchant does not always understand what the supplier writes on his product sheets. As a result, the product presentations written by the merchant can sometimes be wrong.
For commercial sites:
As for the merchant sites, they are completely dependent on the strategy set up by dropshipping wholesalers. The supplier decides how he wants to manage his stock of goods, he may decide to stop the supply of an entire product category for example and this will have a direct impact on the sales of an e-commerce site specialized in this category. The supplier also grants itself the right to modify its selling prices without consulting its distributor network beforehand. This dependence can prove to be dangerous for the stability of an e-commerce site.
Furthermore, competition is also one of the main risks. You will not be the only merchant site to call upon your supplier in dropshipping. There is a strong chance that your competitors will offer the same products for sale as you. As an e-commerce site, you risk offering similar offers to those of your competitors and by doing dropshipping, you will not be able to differentiate yourself on logistical issues and moreover delivery times. You will thus be able to enter into a certain pricing policy that will eventually make you lose more money than you earn.
Dropshipping suppliers or e-merchants, whoever you are, there are obviously solutions or tips to limit all these risks related to dropshipping. We offer you the key to success in the next few lines.
Steps to start dropshipping?
Select a market.

The market you choose must truly interest you and be targeted. A product line that is not targeted will be difficult to market. If you are not passionate about the market you choose, you may become discouraged because it takes a lot of work to successfully develop a dropshipping business. Here are some points to consider when selecting your market:

Look for interesting profits.
Low shipping costs are very important.
Make sure that your product attracts impulse buyers with sufficient financial capacity to buy your product.
Make sure that people are actively looking for your product.
Create your own brand.
Sell a product that is not readily available locally.

Conduct competitor research.

Don't forget that you will be competing with other dropshipping companies as well as retail giants. This is where many potential shippers are mistaken, as they are looking for a product that has little or no competition. This is a sign that there is no demand for that particular product.

There are many reasons why a product may not have much competition, including high shipping costs, supplier and manufacturing problems or low profit margins. Look for products that have competition, as this is a sign that there is strong demand and that the business model is sustainable.

Find a supplier.

Partnering with the wrong supplier can destroy your company's brand image, so it is important not to rush this step. Exercise due diligence. Most direct delivery service providers are located overseas, which makes communication extremely important, both in terms of speed of response and the ability to understand each other.

Alibaba has become one of the largest online resources for identifying and communicating with potential manufacturers and suppliers. Make sure you ask lots of questions and know their production capabilities in case your business grows exponentially. You want to make sure they have the ability to grow with you.

Create your dropshipping site.

There are two methods to create your e-commerce site: SaaS solutions or Open Source.

SaaS solutions: it means "Service as a Software" and they are very effective solutions when creating an e-commerce site. These solutions do not require any knowledge in coding, there is simply need to connect to an administration area. They allow, in particular, to create catalogs and product sheets automatically. The advantage of these solutions is that they have developed a module that allows you to connect directly to dropshipping suppliers. Saas generally charge monthly subscriptions and commissions on turnover.

Open Source: refers to software where the original source code is made available free of charge and can be modified or improved as required. However, if the source code can be used freely the use of a platform is expensive. The advantage of Open Source is its flexibility and customization. Access to the code allows the interface to be adapted to the needs of e-commerce.

Create a customer acquisition plan.

There are several ways to attract potential customers, but the most effective option is to launch advertising campaigns. This allows you to generate sales and revenue right from the start, which can contribute to rapid expansion. Facebook allows you to place your offer directly in front of a highly targeted audience. This allows you to compete immediately with the biggest brands and retailers.

You also need to think long term, so search engine optimization and email marketing must also be a priority. Collect emails from the start and set up automated email sequences that offer discounts and special offers. It's an easy way to leverage your existing customer base and generate revenue without additional advertising and marketing expenses.

Analyze and optimize.

You must follow all the data and measures available to develop your business. This includes traffic from Google Analytics and pixel conversion data from Facebook, if it is your primary customer acquisition channel. When you are able to track each conversion – to know where the customer came from and what path they took on your website that ultimately led to a sale – you are able to evaluate what works and eliminate what doesn't. You will never have a ready-to-use advertising or marketing solution. You need to constantly test new opportunities and refine ongoing campaigns, so you know when to optimize or change campaign spending.
VAT and Dropshipping
The payment of VAT in dropshipping depends on the legal status of the company.
If you own a self-company. Then the VAT will be exempt as long as the ceiling defined by the State is not exceeded. However, if the ceiling is exceeded, then the VAT will have to be collected, declared to the State and paid.
If you own a SARL, EURL, SASU or SAS. VAT must be collected. If you sell a product for which the VAT is 7.7%, then you will have to add 7.7% to the selling price of the product and then make a declaration to the State to pay it.
Dropshipping success stories.
Many people claim the opposite but dropshipping works for some. For this you need to follow a few guidelines. You have to bet on an irreproachable and competitive communication. It's up to you to find original posts for your social networks, in order to attract attention. You must therefore determine an effective marketing technique. It is also important to communicate without overdoing it, otherwise your competitors could copy you and you will lose your customers. Here is the list of the 12 most popular dropshipping sites:
Chinabrands: one of the main wholesalers and suppliers of dropshipping
Aliexpress: it offers a wide variety of products and offers both retail and wholesale products.
Oberlo: has a very wide range of products.
Central Wholesale: clothing, electronic products and mainly leather goods.
Dropship Direct: Offers a variety of items.
SaleHoo: concentrates all types of companies with which a good partnership can be established.
Mega Goods: Deals only with direct suppliers. Products in the field of video games and electronic products.
Doba: A dropshipping service. It takes part in the contact with the supplier and sends the products to the customers.
Wholesale 2B: A supplier that does not charge for its catalogs.
Worldwide brands: helps to market products by dropshipping.
Sunrise wholesale: brings products to customers.
Dropified: manages your entire Shopify store from a single location.
Finally, here are some European dropshipping suppliers: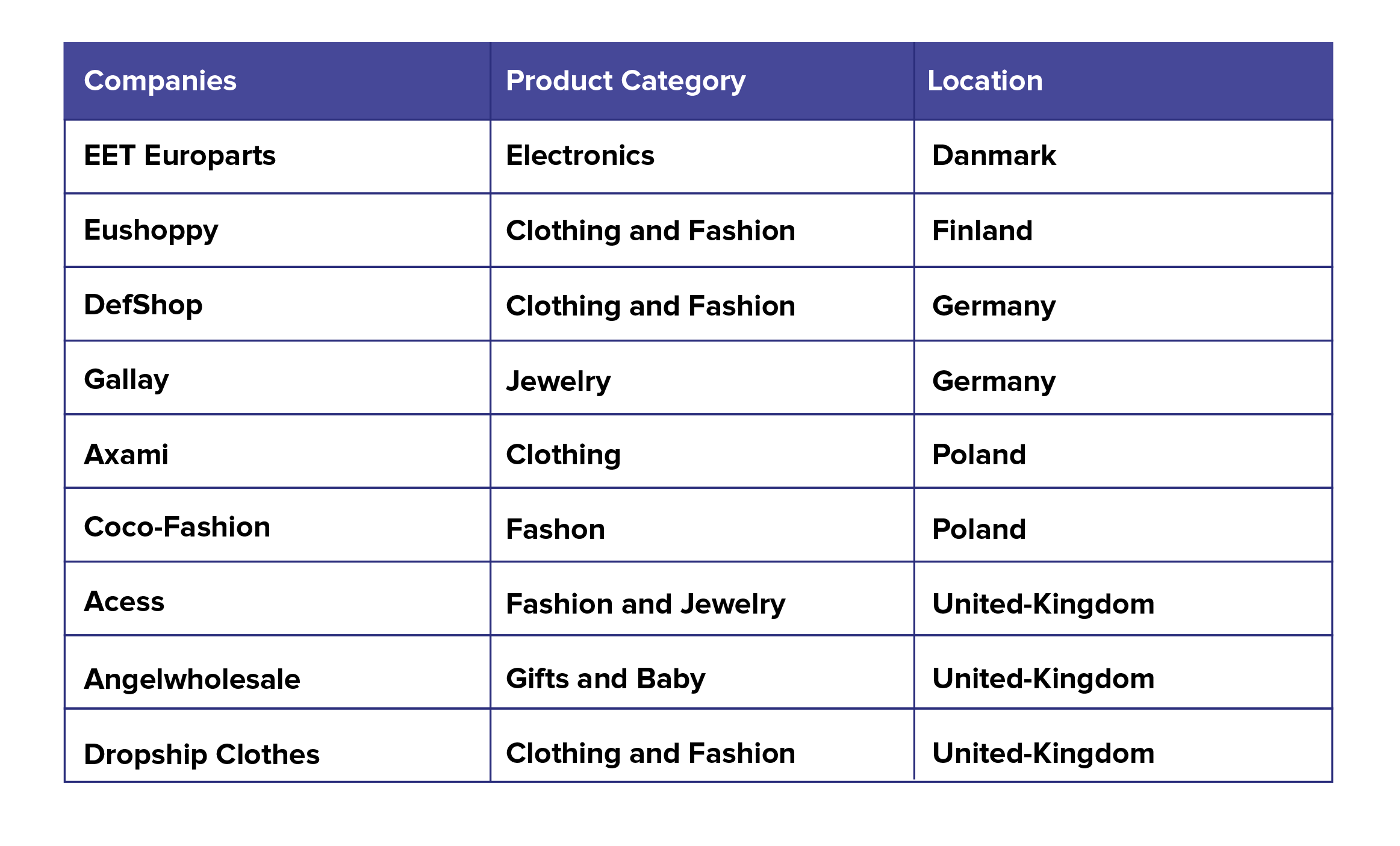 How do I find suppliers?
Search:

Depending on the market chosen and the number of suppliers, it will be necessary to choose between a domestic and a foreign supplier. When selecting suppliers, it is important to immerse oneself in the search for raw materials, delivery times and service potential.

Contact suppliers:

Talk to the dropshipping service provider that is right for you and establish a relationship with them. They may even provide you with contact information for some of their current customers so that you can see for yourself how you work with the provider before you commit to them.

Order samples from the supplier:

Test the quality of their service, delivery times, packaging and any other questions you may have about suppliers in order to be completely satisfied with your choice. Ordering samples from a dropshipping supplier is an essential part of supplier selection.

Order from competitors:

If one of your competitors uses the same supplier as you do, you can find out how they package their products and offer services, such as custom labeling. If your competitor uses other suppliers, you can place orders with them to get an idea of the level of service you need to provide to stand out.

Finding the right supplier for your business:

When selecting suppliers, many may seem excellent when you look at their reviews and the products they offer, but once you dig into the business, they may not be suitable for your audience. This may be due to the raw materials they use, the way they do business or the way they handle returns. Remember to talk to suppliers and find out how they do business before you commit to working with them.

Beware of suppliers to avoid:

If a dropshipping provider insists on a monthly or ongoing fee to do business with them, it is a bad sign. Ongoing fees may mean that a supplier is part of a directory rather than a sole supplier. It is normal to have pre-order fees that increase slightly with the size or complexity of an order, or decrease with bulk orders.
The minimum order size is another element to take into account when choosing a dropshipping provider. Most of the time, a supplier is willing to charge the minimum order fee and fill orders as they come in. This means that if a supplier's minimum order size is 200, you must pay for the 200 units in advance, but the supplier will fill orders as they come in from your online store. Suppliers who refuse to do so should be avoided, as they are more suitable for wholesale dropshipping.
If you wish to know more and/or be accompanied for the creation of your e-commerce site, do not hesitate to consult our page or to contact us. Our team of consultants in business creation strategy will be pleased to help you initiate your dropshipping project whose success depends in part on your e-commerce site. We will then be able to accompany you through the different stages of your project thanks to our webdesign, development, SEO and community management teams.